Match Analysis
| Scout Report |
@flyingwingback
|
@spielvercom

Manchester City's forwards shared the star roles in the Premier League's first Holywood fixture of the 2015/16 season while Chelsea's defence were poorer than they Eva have been before.
Both coaches had pretty much a full compliment of players to choose from and they both played variants of a 4-2-3-1 formation.

Matic is the Key…

For the first 45 minutes, Bayern fielded an asymmetrical shape during their early possession. From the initial 4-1-4-1 shape, Alaba stayed deep in a 3-chain whilst Lahm pushed higher up into the midfield line.
On the left half of the pitch, both Thiago and Lewandowski shifted towards the touchline to aid in connections and potential overloads which positionally supported Costa on a few occasions as the Brazilian created a number of 1v1 opportunities early on.

Down the right side, Lahm stayed wide (until Guardiola changed around the 15th minute) in a midfield line with Muller more vertically oriented than Thiago and Robben in a direct role higher up.
Between the flanks sat an at-times alone Alonso who struggled to build connections through the team and his poor positioning hurt the overall structure of the team.
FIn reaction, Hecking's side pressed in a lopsided 4-3-3 shape as Caligiuri moved higher on Alaba with Perisic deeper against the advanced Lahm. Initially the outcome was poor, as Alaba started well and Bayern prospered to some degree down their left. However as Wolfsburg grew into the game, they slowly became on top due with improved pressing and defensive control.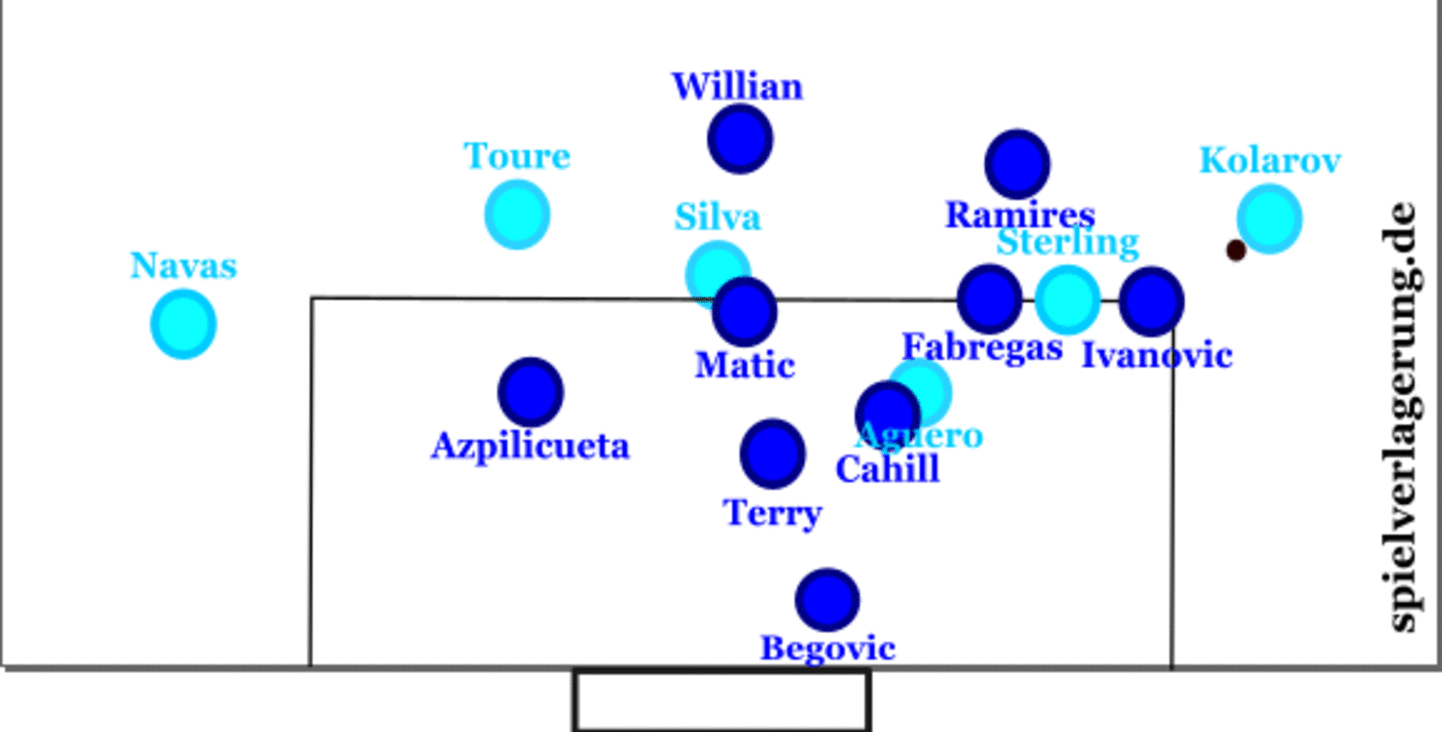 Silva pulls Matic out of position
This time, City are counter attacking and instead of running into the space in front of Chelsea's centre-backs, Matic stays in the halfspace, looking to cover the channel between Azpilicueta and Terry while also keeping an eye on Silva. This allows Aguero to, again, shake off Cahill and get into key space central space in front of Chelsea's centre-backs and get another shot on target.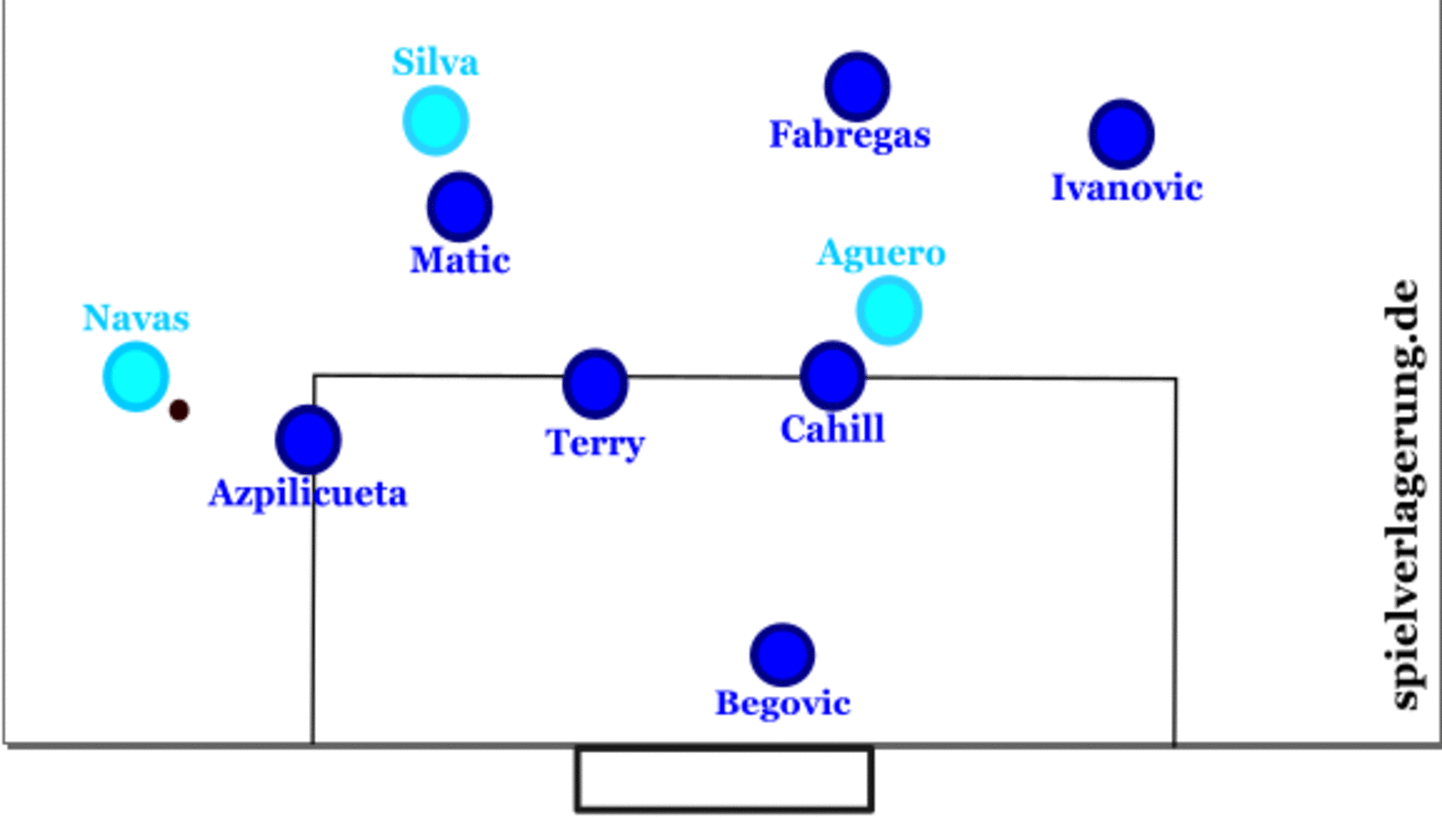 Another Aguero chance
Below we have another example. Here, Matic is unnecessarily in the small channel between Azpilicueta and Navas, while Fabregas has been pulled away by a Silva run. Navas simply pulls it back to Aguero who has a crazy amount of space to set a shot which just misses Begovic's left post.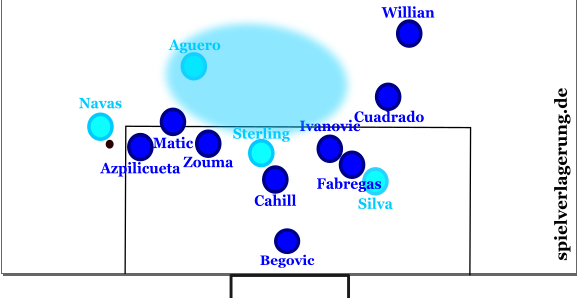 Aguero shoots wide this time

It was this non-coverage of the important space in front of Chelsea's centre backs which was at least in part to blame for Manchester City's opening goal. Terry is caught having to press Silva while Matic sensibly drops in to cover him. However, for some reason Fabregas moves into the channel meaning both of Chelsea's makeshift double pivot (Terry+Fabregas) are in the same halfspace, leaving a big space in the centre. Toure drops off Matic who this time can only blame himself (rather than anything systematic) for losing concentration. Toure and Aguero combine and the Argentine to slides a finish past Chelsea's back-up 'keeper and into the net.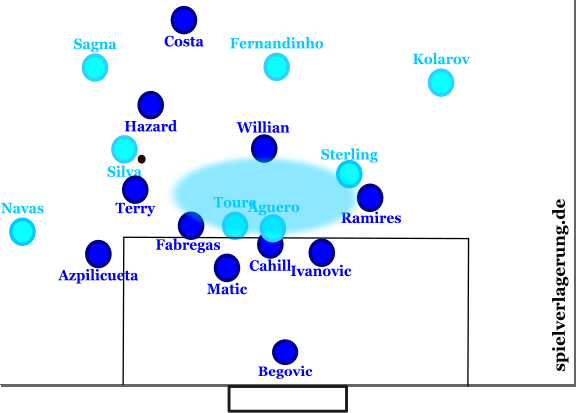 | | | |
| --- | --- | --- |
| | 1-0 to City. Also, notice the nice 2v2 situation city have created with Toure and Aguero, Navas' width which stretches the Chelsea defence, Sterlings infield position which opens up potential space for Kolarov on City's left-hand side and finally the fantastic positioning of Sagna, Fernandinho and Kolarov to enable City to regain possession if Chelsea clear as well as blocking potential Chelsea counter-attacks. | |
I'm being careful not to fall into the stereotype of the typical British pundit who blames individual defensive errors instead of a flawed system for a loss however I would say that individual mistakes and lack of common sense combined with poor instructions from Mourinho lead to Man City enjoying so many chances, especially in the first half.
City's left side orientation
Just twenty seconds into the match, David Silva played a wonderful through ball down City's left halfspace to Aguero who disappointingly shot straight at Asmir Begovic. It was a sign of things to come both in the sense of City's domination but also the fact they had used the left side of the field to exploit Chelsea's trio of Ivanovic, Cahill and Fabregas. These three are defensively inferior to Terry, Matic and Azpilicueta on Chelsea's left half of their defensive block. Also, it gave City a chance to show off their new £49m signing who had a Sterling performance, embarrassing Ivanovic on a few occasions, and allowing them to use David Silva on his favoured left side of the pitch.
| | | | |
| --- | --- | --- | --- |
| | Raheem Stering and David Slva's combined heatmap. | | |
Below is City's left side overload of the field which they would use in three ways: firstly, to give the ball to Kolarov or Sterling who would have time to cross or dribble in behind Ivanovic. Secondly, Play in Aguero, Sterling or Silva in the channel between Cahill and Ivanovic. Or thirdly, as we have seen they use it to attract Chelsea's double pivot away from the centre of the pitch, before playing the ball into Aguero in this area.
Note that normally Ramires, or later on Cuadrado would move back and position themselves to the right of Ivanovic as well as Silva obviously normally being further infield than Sterling rather than the other way around. However, if you take the former of those two factors into account, City would still have a 4v3 overload in the area I have outlines.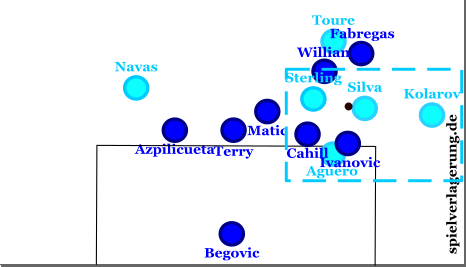 | | | |
| --- | --- | --- |
| | Manchester City left side overload. Matic is in a good position! Aguero pinning Ivanovic in the halfspace–stopping him going towards the ball/closing down Kolarov. | |
Another reason for attacking down this side of the pitch, is that it makes it more difficult for Chelsea to counter attack through their main threat, Eden Hazard, should they win the ball.
City also set out to exploit this side of the field in the defensive phase too. Neither side, as is the nature of the Premier League, did much front line pressing in the match although City did, at times, look to isolate and expose Chelsea's less able passers down this side–Ramires and Ivanovic. Below is an example.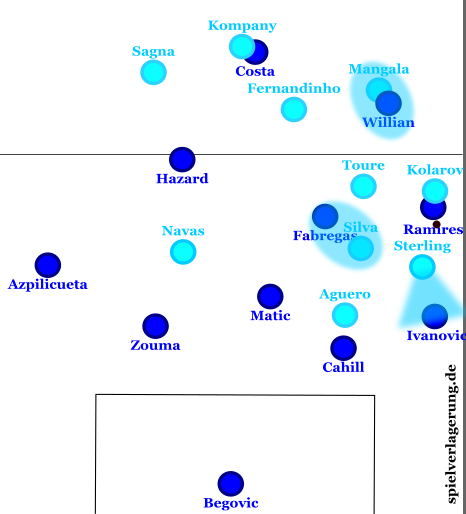 | | | |
| --- | --- | --- |
| | City isolate Ramires on the touchline in the 61st minute | |
Chelsea's issues going forward
Chelsea played with an interchanging attacking midfield three of Hazard, Willian and Ramires. Hazard had long spells playing in the centre of the pitch while Willian dropped deeper or played to the left. The two 'wingers' generally spent most of the match in the halfspaces with the aim of Hazard or Willian finding the fairly large space behind Toure and Fernandinho but they didn't manage to do this often enough.
The full-backs rarely pushed up enough to give Chelsea any considerable width. Mourinho was obviously concerned about defensive transitions and not leaving Chelsea to open to counter attack, citing this as his reason to replace Terry with Zouma at half-time (a decision which paid off to a small extent as Aguero didn't get a shot on target all second half and City not being too devastating on the counter attack.
Despite this, the decision not to play Hazard very wide on the left, somewhere he could have given Bacary Sagna nightmares for months, was strange. The Belgian only managed two successful take-ons in the game. It looked as if Juan Cuadrado would give Chelsea some width when he came on in the sixty-fourth minute however he infuriatingly was given some sort of pseudo-left wingback role and spent a lot of his spell on the pitch in a back five helping Branislav Ivanovic deal with Sterling and Kolarov.
In general, Chelsea were just horribly static off-the ball when they had possession in City's half and didn't offer much threat other than a couple of promising moments when Hazard and Costa combined.
Conclusion
A dreadful start to the season for Jose Mourinho. The decorated coach now has to be very careful not to turn his charisma into egotistical madness as arguably the main reason for his success as a coach is the his players adore him and will happily live and die by him. John Terry didn't looked best pleased to be substituted at half-time and Jose could start to lose the dressing room, not just the treatment room. I think signing a forward as well as a full-back would be ideal for Chelsea.
On the other hand, Pellegrini will be pretty delighted with his Man City side who now have an added element of danger, especially on the counter attack, in Raheem Sterling. One area which they may wish to improve is their intensity in central midfield as Silva doesn't offer much defensively and Toure + Fernandinho don't offer much pressing coverage (Fabregas had the most touches of anyone on the field, 100, and Matic had the most dribbles, 8).
.
Article by TT
Twitter: @flyingwingback
Match Analysis. Manchester City-Chelsea 3:0 @flyingwingback | @spielvercom http://t.co/LGV7ketSWn pic.twitter.com/HiqTuU83c9

— Alleniamo.com (@Alleniamocom) 21 Agosto 2015